2013-2018 Focus ST Front Splitter V1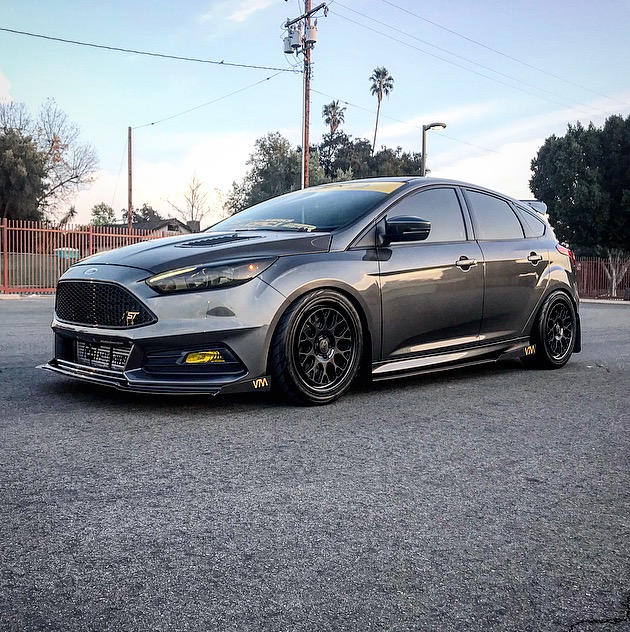 2013-2018 Focus ST Front Splitter V1
Disclaimer: ABSOLUTELY NO REFUNDS.
This splitter will fit the 1552 cup spoilers (with minor drilling)!
Typical turnaround time:
7-9 BUSINESS days for shipping. Please allow an additional 14 business days if you want it powder coated since I have to send it out. (business days do NOT include Sat/Sun). If you plan on getting it powdered somewhere else, please check their prices since I only charge $45 for powder.
090 High grade Aluminum

This is the 1 piece setup (with 2 side fins)

Support Rods required. I do not supply them. FTR Rods are one of the best out there CLICK HERE

Want the 3 piece version and save on shipping? CLICK HERE

Fits ST's with Fifteen52 Cup spoilers (extra drilling required)

Pre drilled (drilling required to your bumper).

You must drill into your bumper and or Cups (easy stuff)

Bolt on side fins (this allows you to mount a variety of fins once I create new styles)

Choice between opt 1 and 2 fins (see pictures) - Option 2 fins will come with the VM logo cutout.

Hardware included.

Support Rods required and must be purchased separately.

MADE IN THE USA

Splitter also fits under the Maxton Splitter for the Focus ST. makes it more aggressive. The black Focus ST pictured show it installed under a Maxton Splitter.

2015+ cannot use the 1" spacers in the center. only the bolts. or just the Splitter Rods. see install guide for more info.
If you would like the splitter without the side fins email me.
I REPEAT, Support rods required.
DISCLAIMER: If you decide to run a splitter on your car (especially if you are lowered or on bags) you have to be extra careful with curbs, pot holes, uneven roads, etc…
HAWAII, ALASKA, APO AND INTERNATIONAL CLIENTS please email me
Since I have to send the splitter out for powder coating and I get my rates based on bulk, please have patience! :) If you don't want to wait, you can purchase the splitter unpainted.
1 piece = 72"x23"x3" box
3 piece= 39"x11"x3" box (saves on shipping).