2013-2018 Focus ST FOCUS FULL KIT (multi piece option)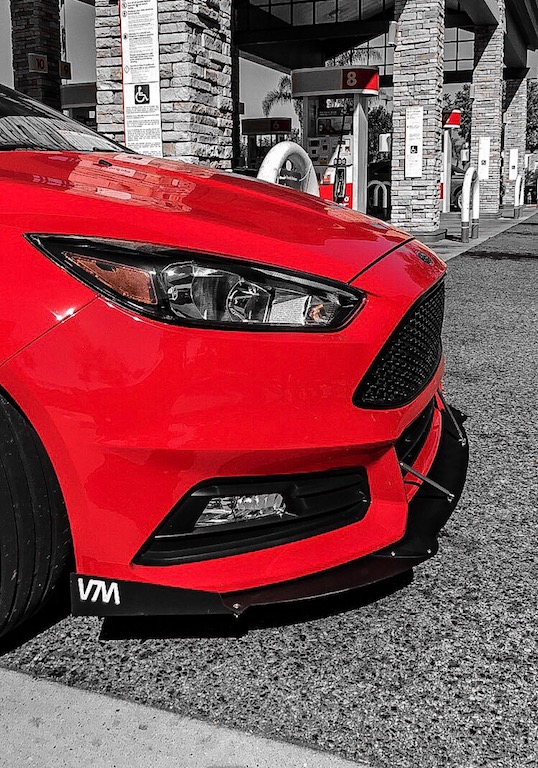 2013-2018 Focus ST FOCUS FULL KIT (multi piece option)
Disclaimer: IF YOU DONT HAVE THE FUNDS, DO NOT PURCHASE. ABSOLUTELY NO REFUNDS.
This listing is for the complete MODULAR MULTI PIECE kit. Save money on shipping AND each kit when you buy the complete aero VM set!
-7 to 9 business days for shipping unpainted.
-Additional 14 business days if you opt for powder coat since I have to send it out. (business days do NOT include Sat/Sun) THESE ARE MADE TO ORDER.
WHY DID I MAKE A modular MULTI PIECE FULL KIT?
I originally made it for international accounts since shipping costs can make it impossible to ship to UK, Canada, Australia, etc.., I can ship this multi piece kit in 1 box vs 3 boxes (which is required for the regular full kit).
What's different between the Regular Full kit and the Multi Piece kit?
The front splitter is modular. Which means its shipped in 3 pieces and is connected by bolts (look at picture diagram). This breaks down the overall size from 75" wide to 42" since the splitter is shipped in pieces.

The Side Skirt Extension is also modular. Each Side comes with 2 long pieces and a connecting plate that connects the pieces together via bolts (look at picture diagram). This breaks down the size from 75" long to 40" long since they are shipped in pieces.

Diffuser is exactly the same. NO difference

Optional Spoiler extension is exactly the same. NO difference
LISTING INCLUDES:
1- 3PC Front Splitter V1

1 SET of 2PC Side-skirt extensions. (4 PCS TOTAL)

1- Rear Diffuser (8 fin)
If you would like the Rear Spoiler Extension please choose yes or no in the options below.
If you would like the 1PC FRONT SPLITTER and 1pc SIDESKIRT FULL KIT please click on this listing ----> HERE
FINS will be VM option 2 fin and matching VM side-skirt fins. These bolt to the splitter.

090 Aluminum (rear spoiler extension is 060).

Drilling required!

Kits are Pre-drilled

Hardware included (unless noted).

Support Rods required. I do not supply them. FTR Rods are one of the best out there CLICK HERE

Will fit 1552 cup spoilers!

PLEASE LOOK AT EACH OF MY LISTING FOR ADDTIONAL INFORMATION on each of the kits in this bundle.
SHIPPING:
Shipping discount is only for US lower 48 states. Hawaii and Alaska peeps please contact me for a shipping quote.
for install guides --->> CLICK HERE